Dental Implants Shrewsbury
at Church Stretton Dental & Implant Centre
Implant Offers – Only this Month
FULL ARCH £13,500
SAVE £3,000
1. Consultation & cbct £300*
2. 3-year guarantee
3. Free same-day temporary bridge
*Consultation fee deducted from total treatment plan when taking up treatment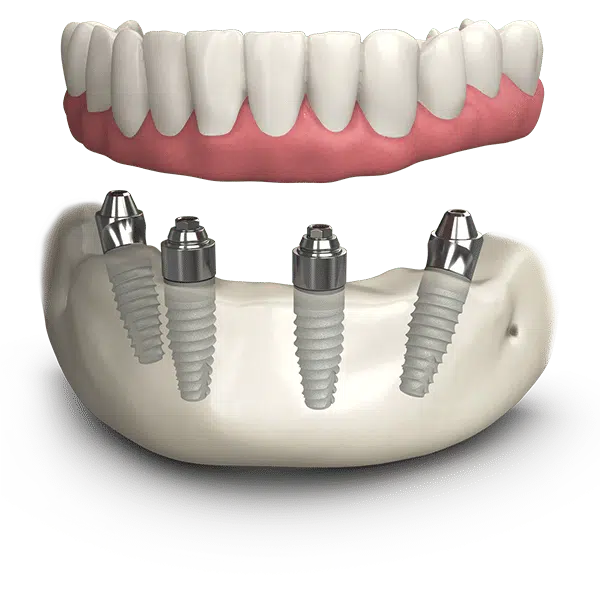 Single Implant £2,200
Completely FREE & no-obligation
1. Initial chat is free
2. Implant Now £2,200
3. Consultation & cbct £300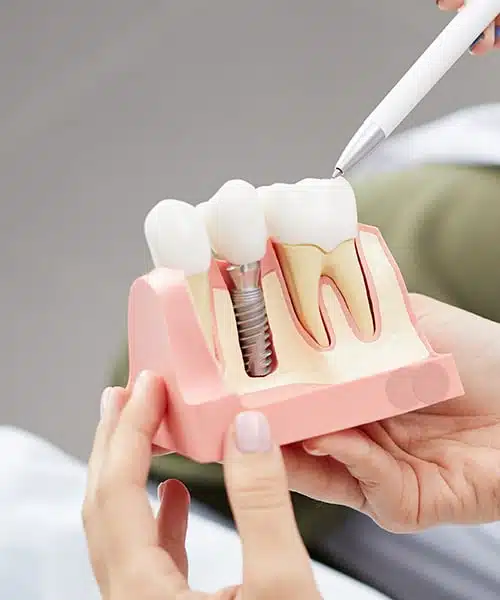 The following dental implant offers are for a limited time only. T&Cs apply, for more information please call Church Stretton dental in Stretton.
Replace missing teeth in Shrewsbury
A missing tooth or missing teeth can severely affect your self confidence and your ability to smile.
Whether you've lost a tooth due to decay, disease or a trauma, at Church Stretton Dental & Implant Centre, we can help put things right. Dental implants are a safe and more permanent way to replace missing teeth and give you your smile back.
A dental implant can look, feel and function just like a natural tooth.
Book A Whatsapp Consultation
Virtual consultations via Whatsapp are also available. 
*Free consultations are for cosmetic treatments only.
Why choose Church Stretton Dental & Implant Centre for dental implants?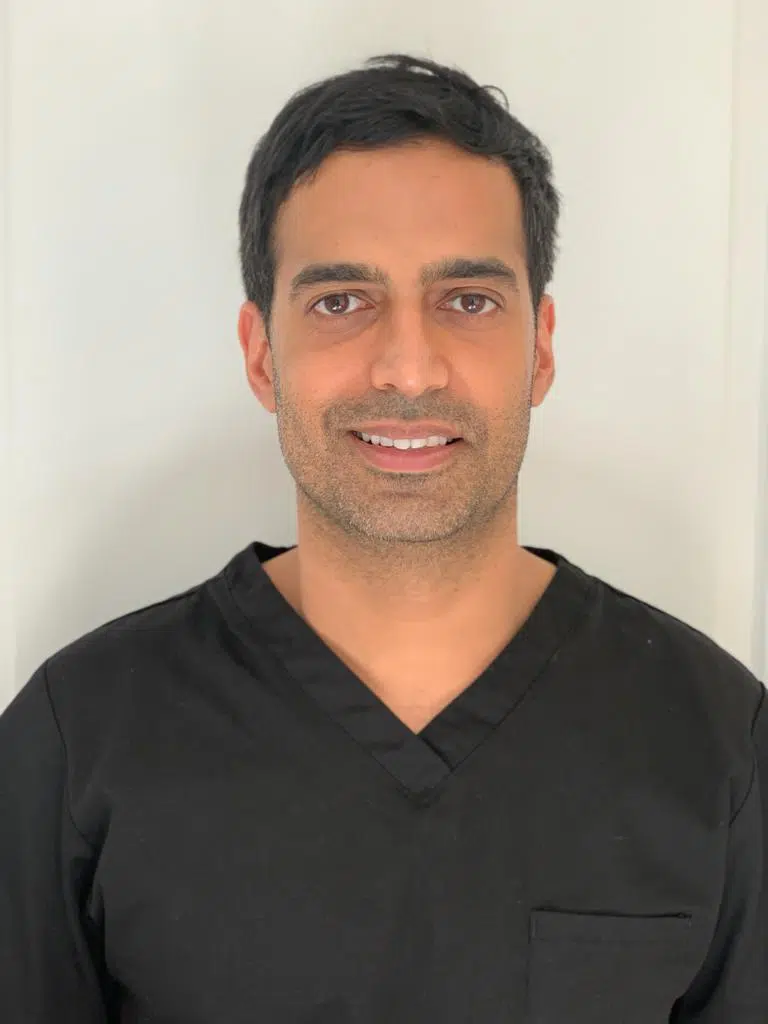 Experienced Implantologist
Dr Khanna is our experienced dental implantologist with over 10 years' worth of experience and has treated many satisfied patients throughout Church Stretton, Bishop's Castle and throughout Shropshire.
The latest technology
At Church Stretton Dental & Implant Centre, we use only the latest dental technology in our dental implant procedures. Our expert dental implantologist – Dr Khanna keeps up to date with all the latest procedures and technology with his Continuous Professional Development.
Caring staff
Our caring team at Church Stretton Dental & Implant Centre will be on the dental implant journey with you. We can answer all of your questions or concerns that you may have
The process for dental implants 
The procedure for dental implants involves several steps that can take place over a period between 3 and 9 months. Typically, this will involve the following steps:
Initial consultation
At the initial consultation, our expert dental implantologist will assess your teeth and talk to you about the different treatments available to replace missing teeth. These options include dentures, bridges, orthodontics, dental implants and what would happen if you opted for no treatment at all. X-rays of your teeth may be taken at this stage.
Implant Placement
Once you decide to go ahead with treatment, a dental implant will be gently inserted into your jawbone. A local anaesthetic will be used so that you cannot feel a thing. If at this stage we discover that your jawbone is insufficient or too weak to support a dental implant, there are a number of options available for regeneration of the bone.
Integration Period
In most cases we need to allow the dental implant time, usually 3 months or more, to fuse properly with your jawbone. We will provide you with a denture or a simple bridge as a temporary measure for a replacement tooth during this healing phase so that you do not have to live with a gap in your teeth.
You may experience some swelling and soreness once the anaesthetic has worn off, but this will settle down and you can resume your life as usual. Patients are often back at work or in their usual routines on the day after dental implant surgery.
Restoration Period
Once the dental implant has fused with your jawbone, there are a range of different restorations that can be used to replace the tooth. These include a simple crown, a small or large bridge or a removable overdenture that is clipped to the implants. The choice will mostly depend upon how many teeth have been replaced and our expert implantologist will discuss this with you.
Maintenance
Once the process is complete, the dental implants will need regular cleaning and care as instructed by your dentist. Regular check ups are needed to monitor the soft tissue and bone levels as well as to check on endurance of the replacement tooth. Careful oral hygiene and regular check ups can prolong the life of your dental implants so that they can last a lifetime.
The benefits of dental implants
There are many benefits of having dental implants fitted to replace missing teeth. These include:

Providing a comfortable alternative to dentures. With dental implants there is no slipping or movement
Being safer for your natural teeth than conventional bridgework as they remove the need to grind down healthy teeth
Dental implants can help to maintain the bone's structure that occurs with missing teeth. This can help to boost the composition of your face and relieve any shrinking or sagging appearance
Dental implants give a more permanent replacement to missing teeth allowing you to live your life as usual
With dental implants you can eat your favourite foods and talk naturally
Book your free consultation for dental implants today!
Frequently Asked Questions about dental implants
Am I suitable for dental implants?
Dental implants can be placed in patients of any adult age provided that they have a sufficient quantity and quality of bone available. We will carry out a full assessment to spot any potential difficulties. If there are signs of gum disease or decay, then these must be treated first.
 If you have a good general health, then dental implants will almost certainly work for you. However, habits such as heavy drinking or smoking can increase the number of problems associated with initial healing and this may negatively affect the long-term health of gum and bone surrounding each implant.
All the common forms of tooth replacement, such as bridges or dentures can be replaced by dental implants.
All the common forms of tooth replacement, such as bridges or dentures can be replaced by dental implants.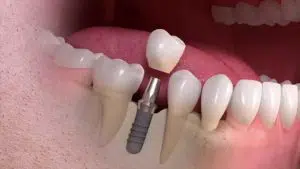 If you are missing just one natural tooth, then one implant is normally all that will be needed, bigger spaces created by two or more missing teeth do not always need one implant per tooth; however the exact number of implants will depend upon the quality and volume of bone at each potential implant site.

The bone in the lower jaw is usually stronger than the upper.
How long do the dental implants last?
Dental implants have been used for over 30 years to replace missing teeth and they can last lifetime depending on how well you look after them. Careful dental hygiene and regular check-ups can prolong the health of dental implants.
Are dental implants painful?
Dental implants do involve a form of surgery and as you might expect from any surgery, you may experience some soreness or swelling once the local anaesthetic has worn off. After this time, dental implants will not hurt or affect your usual routines at all. You can live your life as usual.
Dental Implants Smile Gallery