Fixed Braces
at Church Stretton Dental & Implant Centre
Straighten teeth with fixed braces for a gorgeous new smile
Fixed braces are the traditional way to straighten teeth and they work well because they straighten teeth in a very precise way.
At Church Stretton we offer fixed braces to children under the age of 18 on the NHS for those who have a clear orthodontic need and have been referred by their dentist.
Many adults throughout Acton Scott, Bishop's Castle, Church Stretton and Shropshire still opt to have their teeth straightened with fixed braces because they remain the most affordable form of orthodontic braces.
Fixed braces can treat mild through to severe orthodontic problems. They can help to correct:
Crooked teeth
Crowded teeth
Gaps in the teeth
Protruding teeth
Problems with bite such as underbite, overbite and open bite
Book a free, no-obligation consultation to find out more about fixed braces.
Book A Whatsapp Consultation
Virtual consultations via Whatsapp are also available. 
*Free consultations are for cosmetic treatments only.
At your initial free consultation, one of our professional orthodontists will talk to you about your teeth and what it is that you would like to change. They will also assess the health of your teeth and gums. 
When you are ready, at your next appointment, square metal brackets will be fixed on to your teeth using a composite material and these will be connected with metal wires which gradually move your teeth into the correct position. Sometimes elastic ties are used to fix the wires to the brackets.
It may feel strange at first, but over the next few days, you will get used to having fixed braces. You may notice that you lisp a little bit at first, but this will soon disappear. You may want to eat softer foods in the first few days as your teeth may feel tender as they adjust to the pressure.
You can carry on with your life as usual, taking care to brush your teeth carefully and ensure that no food is trapped in your braces. Unlike the more modern removable braces, you won't have to remember to wear your braces as these are fixed to your teeth!
Every few weeks, you will need to go back to see your orthodontist so that the wires in your fixed braces can be tightened and to ensure that your teeth straightening is on track. How long your braces take to straighten teeth depends on the severity of your case. Most patients take an average of 12 to 18 months to complete treatment.
Benefits of fixed braces in Church Stretton
The benefits of wearing fixed braces to straighten teeth include:
You will have a lovely new smile that you can be proud of
Fixed braces will treat a variety of orthodontic issues including crooked, protruding and crowded teeth
Your teeth will be straightened in a very precise manner
Fixed braces treat mild through to the most severe orthodontic cases
Some orthodontic cases for children under 18 can be provided on the NHS if a dentist has granted a referral
There's no chance of forgetting to wear your braces and delaying treatment with fixed braces
Fixed braces are an affordable way to straighten teeth
Book Your Free Consultation for Teeth Straightening Today!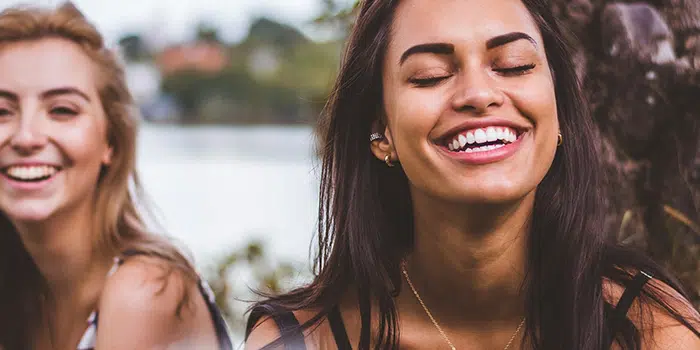 Braces to straighten teeth 
At Church Stretton Dental Practice, we can straighten teeth using two different forms of dental braces: